Services
We can provide services that meet your needs, including interpretation staff and equipment (such as interpreting booths and radios). Feel free to ask us about any of your questions.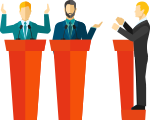 Consecutive Interpretation and
Simultaneous Interpretation

We offer consecutive and simultaneous interpretation and can provide rental interpretation equipment including booths, transmitters and receivers.

E.g.: Corporate conferences, seminars, international committee meetings, international forums, presentations, corporate public relations, press briefings and more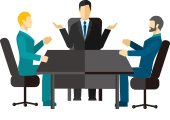 Business Negotiations

For all your important business negotiations, our interpretation services will ensure your message is communicated smoothly, clearly and accurately.
Attendance and On-site Interpretation

Our interpreters are available for your events, from factory tours to trade fairs, ensuring you make the most of every opportunity.

Narration

Our interpretation staff includes professional voice actors able to give voice to your message for audiences you would be unable to reach otherwise.